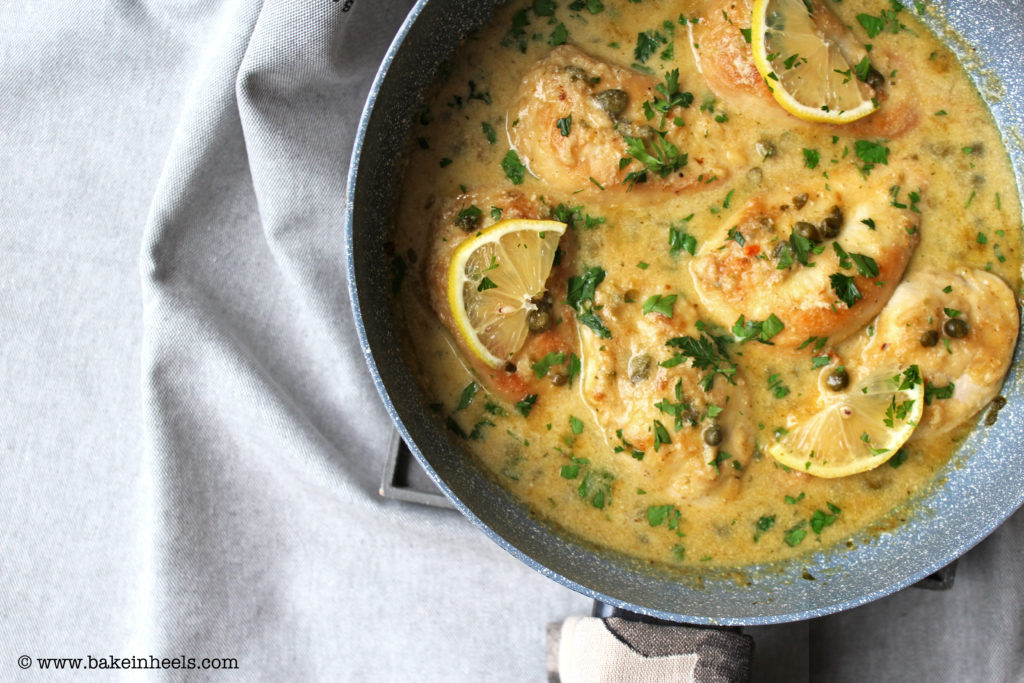 Scroll down for English
Reikės:
4-5 vištienos krūtinėlių, be odos, perpjautų pusiau ir plonai išmuštų (apie 500 g)
Druskos ir pipirų
3-4 valg. š. miltų
1-2 valg. š alyvuogių aliejaus
2 česnako skiltelės, smulkintos
2 puodeliai vištienos sultinio
⅓ puodelio šviežiai spaustų citrinos sulčių (naudokite mažiau, jei nemėgstate citrinos)
2 valg. š. kaparėlių, nusausintų
1 valg. š. nesūdyto sviesto
1 valg. š.  graikiško jogurto, arba daugiau jei norisi
Plonų spageti makaronų (Angel hair pasta), patiekimui
Citrinos griežinėliu, patiekimui
Petražolių, patiekimui
Gaminame:
Vištieną pabarstykite pipirais ir druska. Apvoliokite miltuose, o jų perteklių nukratykite.
Keptuvėje įkaitinkite aliejų. Ant vidutinės ugnies apkepinkite vištienos pjausnelius kol gražiai parus. Atidėkite.
Dėkite česnaką, maišydami kepkite kol pasklis aromatas.
Supilkite sultinį, užvirkite ir šiek tiek nugarinkite.
Supilkite citrinos sultis ir kaparėlius. Vėl užvirkite ir virkite, kol padažas kiek nugaruos ir sutirštės.
Įdėkite sviestą ir ištirpinkite. Sudėkite vištieną. Kaitinkite ant vidutinės ugnies, kol padažas sutirštės, o vištiena bus iškepusi. Nukaiskite ir įdėkite jogurtą, išmaišykite (o galite jogurto visai nedėti).
Tiekite vištieną su daržovėmis arba plonais spageti (angel hair pasta) su citrinos griežinėliais ir smulkintom petražolėmis.
Skanaus!
---
Chicken Piccata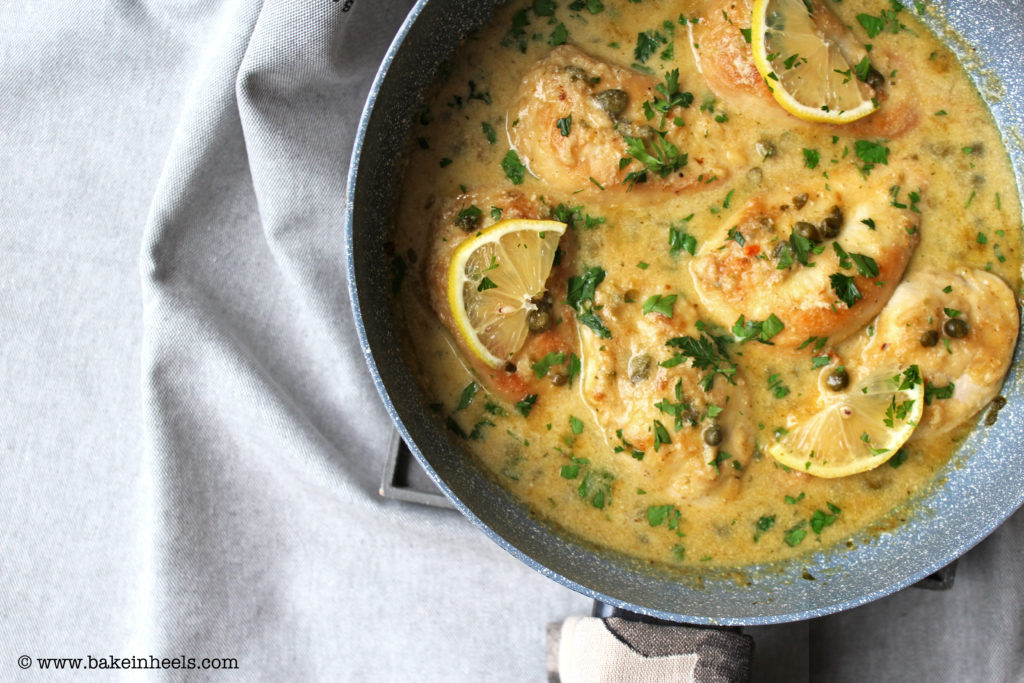 Ingredients:
4-5 boneless, skinless chicken cutlets, pounded thin (about 500 g)
Salt & pepper
3-4 Tbsp. flour
1-2 Tbsp. olive oil
2 garlic cloves, minced
2 cups chicken broth
⅓ cup fresh lemon juice
2 Tbsp. capers, drained and rinsed
1 Tbsp. unsalted butter
1 Tbsp. plain Greek yogurt, or more to taste
Angel hair pasta, for serving if desired
Sliced lemons, for serving
Parsley, for serving
Instructions:
Pound chicken cutlets and season with salt and pepper. Roll in flour and shake off excess.
Heat oil in pan. Brown chicken on both sides over medium heat. Remove to a plate when brown, set aside.
Add in minced garlic. Stir.
When fragrant, add chicken broth. Heat to a light boil and let sauce cook until reduced a bit.
Add lemon juice and capers. Simmer again until sauce is reduced some and slightly thickened.
Add butter and melt. Add chicken and any liquid on plate. Simmer together over a medium-low heat until sauce is to thickness desired. Pull off heat. Lightly stir in yogurt (can also skip this step and eat without adding yogurt).
Serve chicken with vegetables or with angel hair pasta with some lemon slices on the side and parsley sprinkled over the top.
Enjoy!