Pyragas be miltų, kažkuo primena sūrio pyragą, tik šokoladinį. Juodojo šokolado mėgėjams turi labai patikti. Ingredientai tik keli, tad juos naudokite geriausios kokybės.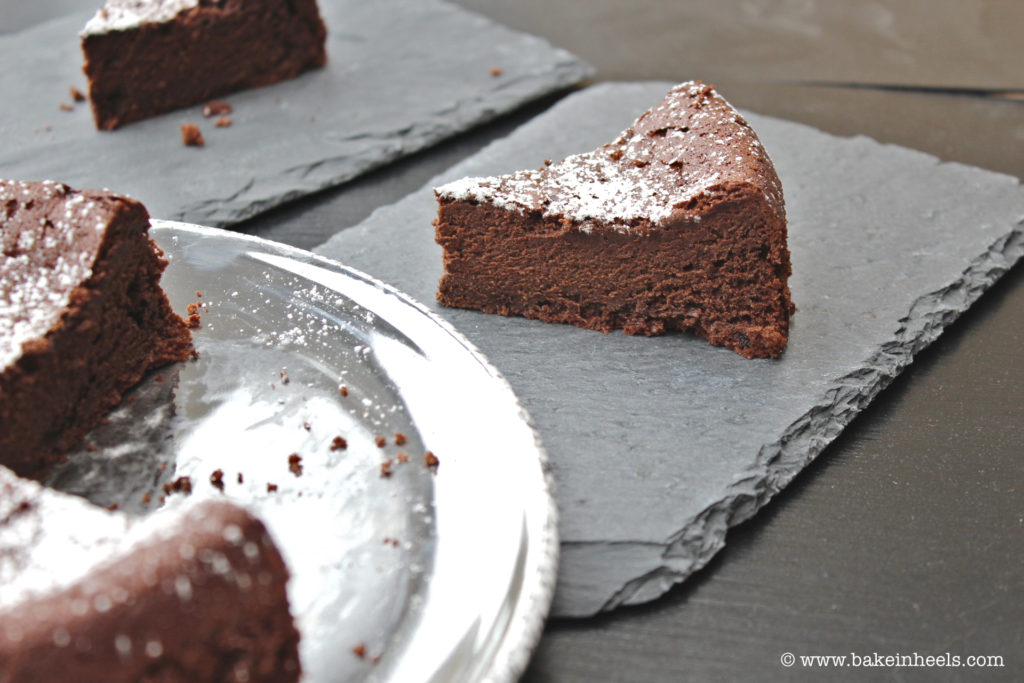 Scroll down for English
Reikės (18 cm skermens atsegamai pyrago formai):
140 g juodo šokolado, susmulkinto
55 g sviesto, susmulkinto
0,5 valg. š. šviežios espresso kavos
0,5 arb. š. vanilės ekstrakto
3 kiaušinių, baltymai atskirti nuo trynių
25 g + 1 šaukšto cukraus
1 valg. š. skrudintų kakavos pupelių (cocoa nibs) (nedėjau)
Gaminame:
Įkatinkite orkaitę iki 170C.

Kepimo skardą ištieskite kepimo popieriumi.

Šokoladą ir sviestą ištirpinkite garų vonelėje, nuolat maišykite, kol turėsite vientisą masę.

Kitame dubenyje išplakite baltymus iki minkštų putų, berkite vieną šaukštą cukraus ir plakite toliau, iki putos išlaikys savo formą.

Atskirai išplakite kiaušinių trynius su 25 g cukraus, kol tryniai taps šviesūs, tai užtruks kelias minutes.

Į tirpinto šokolado masę atsargiai supilkite trynių masę, gerai išmaišykite.

Dėkite pusę išplaktų baltymų ir atsargiai išmaišykite. Sudėkite likusius baltymus ir maišykite, kol šie pasiskirstys tešloje.

Tešlą supilkite į kepimo skardą, pabarstykite skrudintomis kakavos pupelėmis jei naudosite ir kepkite apie 20 minučių, kol pyrago viršus sukeps, bet bus dar pakankamai minkštas.

Traukite pyragą iš orkaitės ir pilnai atvėsinkite skardoje.
Skanaus!
---
Flourless Chocolate Cake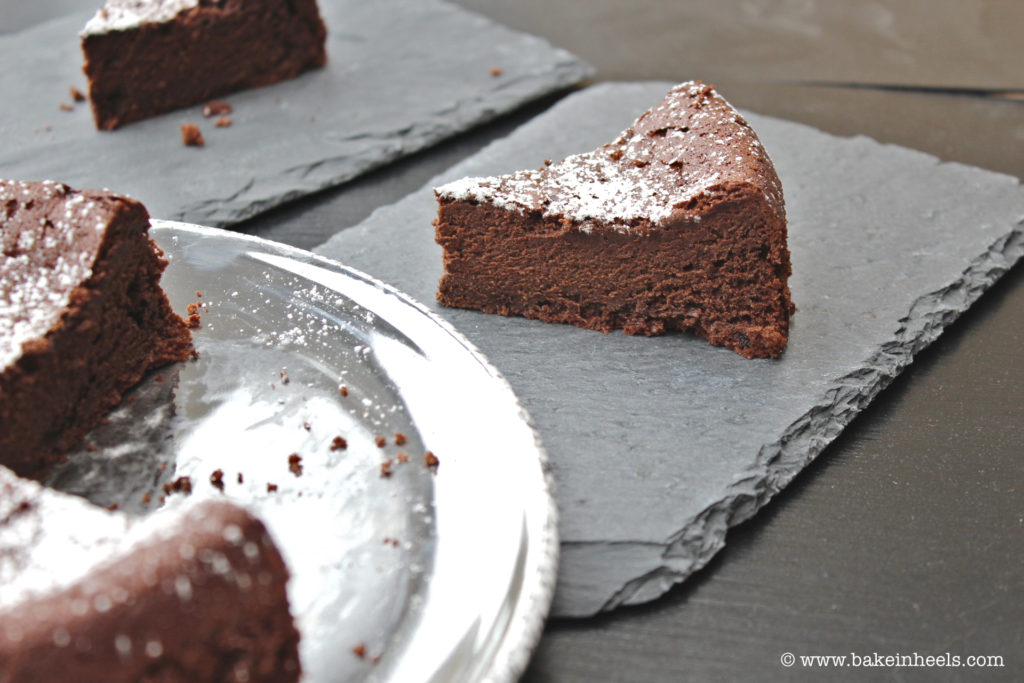 Ingredients (18 cm diameter spring-form cake tin):
140 g dark chocolate, chopped
55 g butter, cut into peaces
0,5 tbsp.  freshly brewed espresso
0,5 tsp. vanilla extract
3 eggs, separated
25 g + 1 tbsp. sugar
1 tbsp. cocoa nibs (did not use)
Instructions:
Preheat oven to 170C.
Butter the inside of the spring-form pan, bottom and sides. Dust with some cocoa powder to coat with thin even layer. Invert the pan and tap out the excess.
Place chocolate, butter and coffee in a large heatproof bowl set over the pot with simmering water. Stir until chocolate and butter melt and the mixture is smooth. Remove bowl from the steam, add vanilla, stir to combine and set aside.
In a separate bowl beat the egg yolks and 25 g of sugar with the electric mixer until yolks turn pale and mixture is creamy.
Clean and dry the beaters of the mixer. In a separate bowl beat the egg whites until foamy and are just beginning to hold their shape . Add 1 tablespoons of sugar and beat some more until soft peaks form.
Fold the beaten egg yolks into chocolate and butter mixture. Fold in half of the egg whites. Add the rest of the egg whites and fold gently until there is no more visible white streaks in the batter.
Pour the batter into prepared cake pan. Sprinkle with cocoa nibs if using. Bake for about 20 minutes, until the middle is set but the cake is still quite soft. Remove from the oven. Let the cake cool in the pan. Transfer the cake onto a plate or a platter.