Puikus užkandis ar lengvas patiekalas: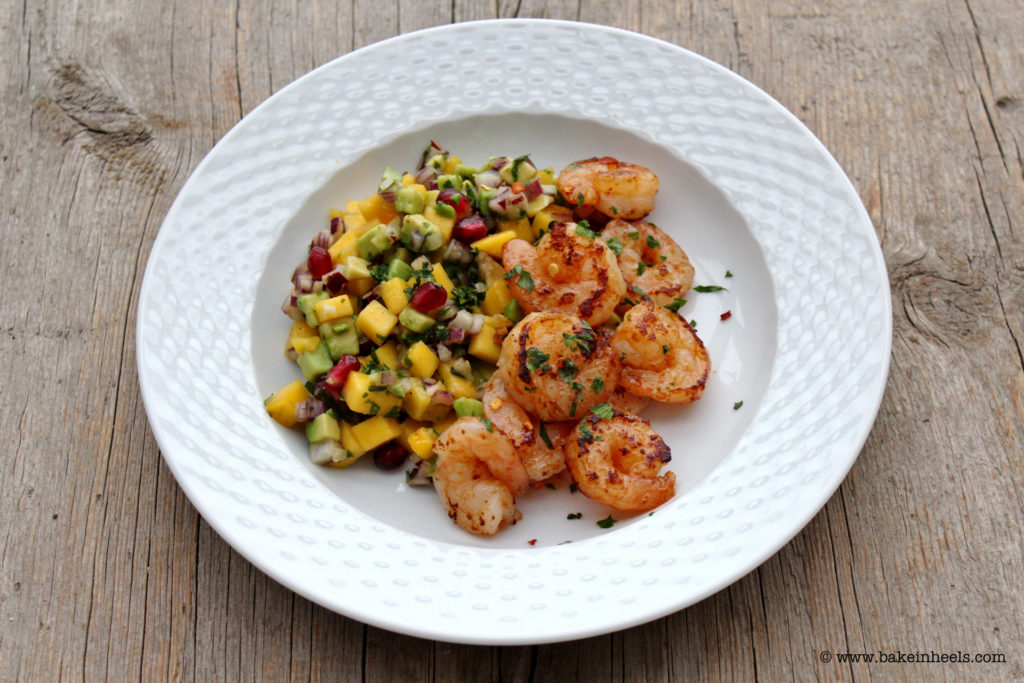 Scroll down for English
Krevetėms:
24 tigrinių krevečių, žalių
3 valg. š. sriracha padažo
1 citrinos žievelės
1 valg. š. čili dribsnių (nebūtinai)
Druskos, pipirų
Mango salsa:
1 mango
1 arb. š. tarkuoto imbiero
1 mažo raudono svogūno, smulkiai kapoto
1 laimo sulčių
1 avokado
1 valg. š. kalendros, smulkintos
2 valg. š. granato sėklų
Druskos, pipirų
Gaminame:
Užvirkite puodą su pasūdytu vandeniu ir 30 sekundžių pavirkite krevetes, nukoškite ir atvėsinkite lediniame vandenyje (taip krevetės nustos virti ir nebus perkeptos vėliau). Pašalinkite kiautą, galvas, išvalykite ir atidėkite.
Krevetes patepkite Sriracha padažu ir pabarstykite pipirais, čili dribsniais (nebūtina, jei nemėgstate aštriai).
Įkaitinkite griliaus keptuvę ir kepkite krevetes po 1 minutę iš kiekvienos pusės.
Tuo tarpu pasiruoškite salsą (aš ją paruošiu dar prieš kepant krevetes, taip skoniai turi laiko susigerti). Nulupkite ir susmulkinkite mangą ir avokadą, dėkite į dubenį kartu su smulkintu svogūnu, granato sėklomis, imbieru, laimo sultimis ir kalendra.
Berkite druskos, pipirų, gerai išmaišykite. Dėkite į kulinarinį žiedą (šįkart praleidau) ir suformuokite bokštelį.
Ant viršaus uždėkite iškeptas krevetes, pabarstykite citrinos žievele bei smulkinta kalendra. Tiekite iškart.
Skanaus!
---
Sriracha grilled prawns with mango salsa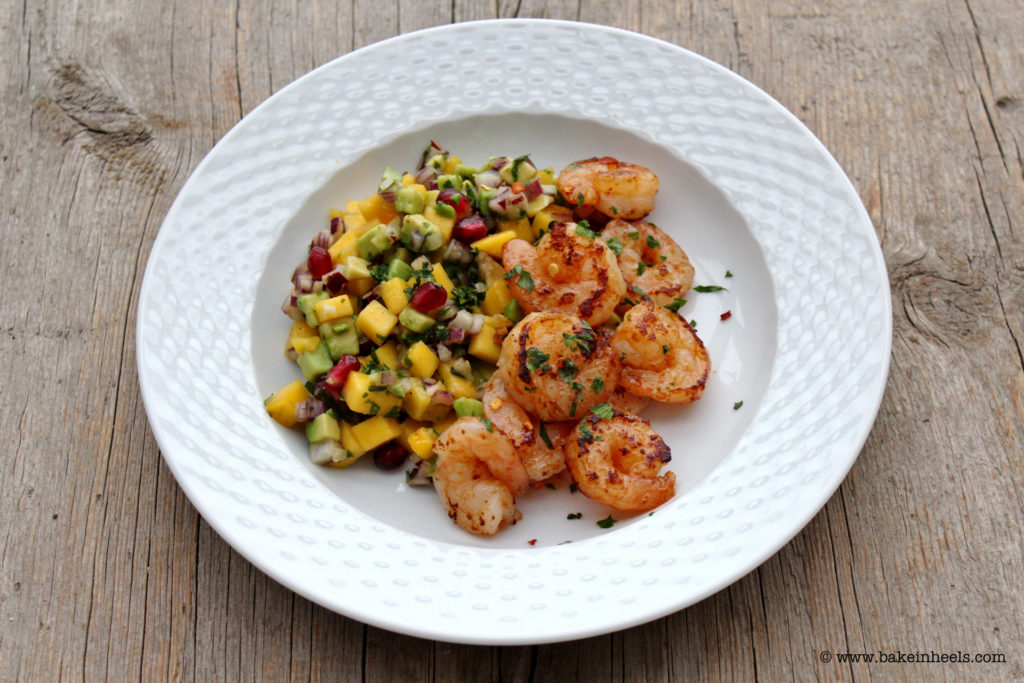 Grilled prawns:
24 king prawns, raw
3 tbsp of chilli sauce, Sriracha
1 lemon, zested
1 tbsp of chilli flakes, red (optional)
sea salt
black pepper
Mango salsa:
1 mango
1 tsp of fresh ginger, grated
1 small red onion, finely chopped
1 limes, juiced
1 avocado
1 tbsp of coriander, finely chopped
2 tbsp of pomegranate seeds
sea salt
black pepper
Instructions:
To prepare the prawns, bring a saucepan of lightly salted water to the boil. Blanch the prawns for 30 seconds, drain and cool in iced water. Remove the heads, peel and de-vein, and place them on a chopping board.
Brush with Sriracha sauce and season with black pepper and extra chilli flakes (optional).
Heat a large griddle pan over a medium-high heat. Grill the prawns for 1 minute on each side, then remove from the pan and allow to cool slightly.
In the meantime, prepare the mango salsa. Peel and finely dice the mango and avocado, place in a bowl and add the red onion, pomegranate, ginger, lime juice and coriander.
Season with salt and pepper to taste and use metal pastry rings to create neat rounds on serving plates.
Top with the Sriracha grilled king prawns and sprinkle with lemon zest and chopped coriander. Serve immediately.
Enjoy!