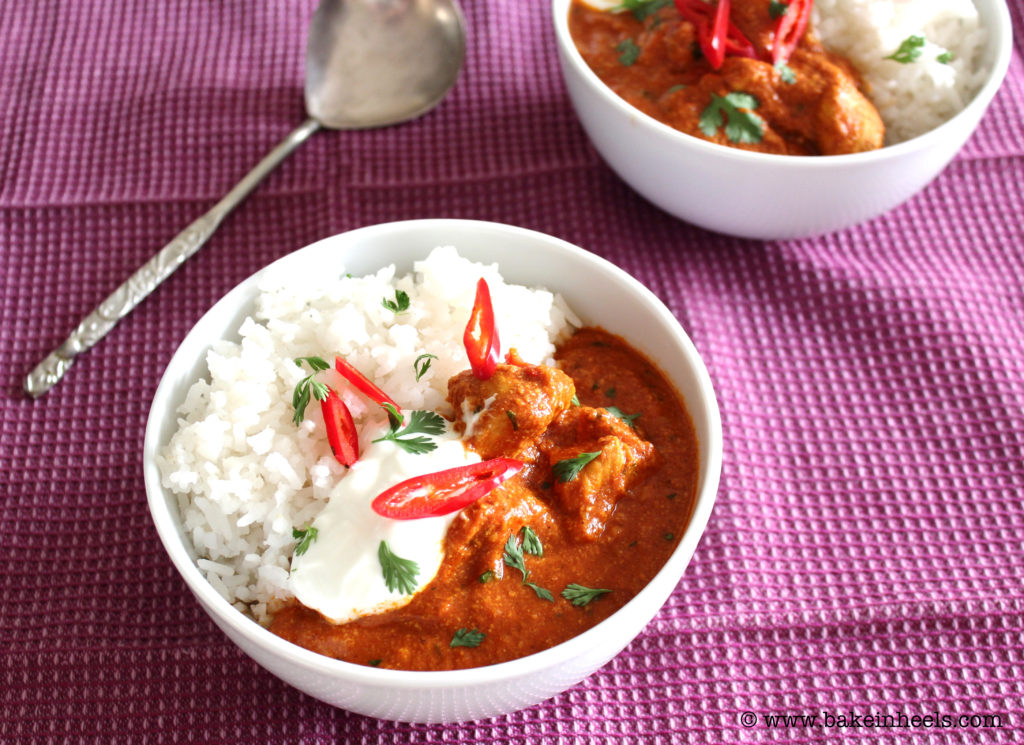 Scroll down for English
Pirmas marinatas:
500 gr vištienos krūtinėlės
¾ valg. š. citrinos sulčių
¼ arb. š. druskos
½ arb. š. čili
Antras marinatas:
¾ arb. š. maltos ožragės
⅛ arb. š. maltos ciberžolės
½ – ¾ arb. š. garam masala
¾ valg. š. aliejaus
1 valg. š. imbiero ir česnakopastos (per pusę abiejų)
½ puodelio graikiško jogurto
Makhani masala (padažas)
1 valg. š. ghee
1 arb. š. imbiero ir česnako pastos
1 cinamono lazdelės
2 žalių kardamono sėklų
2 gvazdikėlių
1 čili
4 didelių pomidorų (sutrintų ir per sitelį pertrintų, kad neliktų sėklų ir odelių) arba konservuotų mažos skardinės
1 arb. š. maltos čili paprikos
10 anakardžių arba be odelės mirkytų migdolų, sumaltų iki vientisos pastos
½ – ¾ arb. š. garam masala
½ valg. š. maltos ožragės
Druskos
80 – 100 ml graikiško jogurto
Kalendros patiekimui
Gaminame:
Marinuokite vištieną su citrinos sultimis, čili ir druska 20 minučių.
Antram marinatui visus ingredientus sumaišykite, sudėkite vištieną su pirmu marinatu, marinuokite bent 3 – 4 hours, geriausiai – per naktį šaldytuve.
Išsimarinavusią vištieną apkepkite keptuve ir atidėkite.
Padažui įkaitinkite keptuvę su ghi sviestu, sudėkite visus saus prieskonius ir kepinkite minutę ar dvi, kol aromatas pasklis. Įdėkite imbiero česnakopastą, maišant kepkite kol aromatas pasklis.
Dėkite pomidorus, čili miltelius bei druską. Gerai viską išmaišykite ir kepkite, kol padažas pradės tirštėti.
Įpilkite 1 puodelį vandens, anakardžių arba migdolų pastos. Jei padažas per tirštas, įpilkite daugiau vandens.
Padažą užvirkite ir kaitinkite 3 – 5 minutes.
Sudėkite vištieną ir troškinkite 5 – 7, kol ši taps minkšta.
Sudėkite graikišką jogurtą, išmaišykite ir nukelkite nuo ugnies.
Patiekite su kalendra, graikišku jogurtu bei čili.
Skanaus!
---
Indian Butter Chicken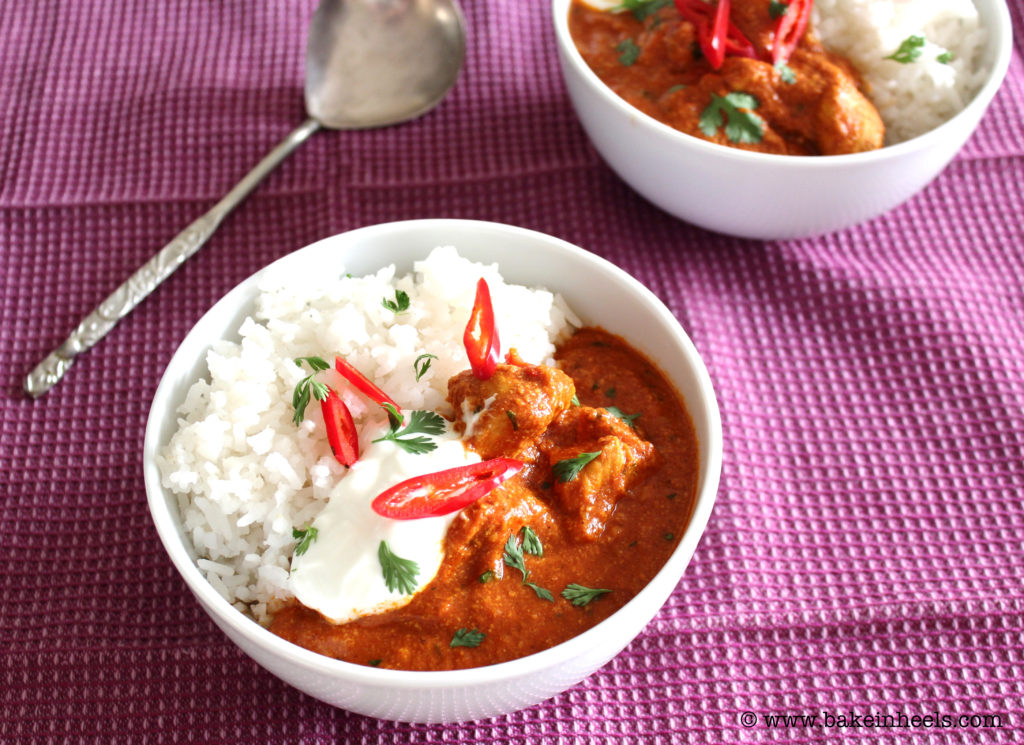 First seasoning:
500 gr chicken breast
¾ tbsp lemon juice
¼ tsp salt
½ tsp red chili powder
Second seasoning:
¾ tsp dried fenugreek leaves powder
⅛ tsp ground turmeric
½ to ¾ tsp garam masala powder
¾ tbsp oil
1 tbsp ginger garlic paste
½ cup greek yogurt
Makhani masala (gravy)
1 tablespoons butter
1 tsp ginger garlic paste
One thin 2 inch cinnamon stick
2 green cardamoms
2 cloves
1 cili
4 large tomatoes (pureed in the blender and filtered to remove skin and seeds) or tinned puree as needed
1 tsp red chili powder / paprika
10 cashew nuts or blanched soaked almonds
½ to ¾ tsp garam masala powder
½ tbsp dried fenugreek leaves powder
salt as needed
80 to 100 ml chilled cream or greek yogurt
Coriander leaves for garnishing
Instructions:
Marinate chicken with lemon juice, chili powder and salt for 20 minutes.
Add second marinate and refrigerate for at least 3 to 4 hours, overnight works best.
Cook the chicken until well done. Transfer to a plate and set aside.
Heat a pan with butter, add dry spices and fry for a min or two. Add ginger garlic paste, green chilies and fry till it turns fragrant.
Add tomato puree, red chili powder, sugar and salt. Mix and cook until the tomato puree becomes thick and begins to leave the sides of the pan.
Pour 1 cup water, cashew or almond paste or almond milk. Adjust the water to suit your desired consistency.
Bring the mix to a boil and simmer for 3 to 5 minutes.
Add chicken and simmer for about 5 to 7 minutes till it becomes soft and tender.
Pour chilled cream or greek yogurt and switch off the stove.
Garnish with coriander leaves and extra greek yogurt if desired.
Enjoy!